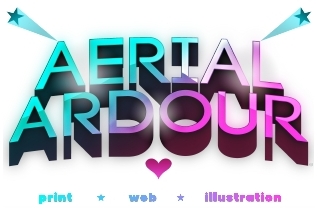 28 Aug

Aerial Ardour Launches!!

Normally I try to limit my use of exclamation points (try, normally fail, though). HOWEVER, this post's title definitely deserves at least the two I've allowed, possibly more.

I'm so, so excited and proud to have helped Aireen Arellano, the super-talented designer/illustrator/brand genius/all-around-great gal behind Aerial Ardour. I gabbed all over Twitter and Facebook on Friday about my excitement, and I'm still pretty pumped about the launch of the new site today.

Check out her wonderful post describing the process of the two of us working together to get her site up and running, and play around with her beautiful designs. Aireen is incredibly talented, and I love that the two of us inspire each other every day to keep going. (Which can be incredibly important when you work for yourself.)

Thank you, Aireen, for such kind words. And here's to finishing out the Year of Swagger with a bang!