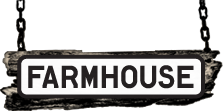 05 Oct

Farmhouse Site Live!

I'm fortunate to have known Ferdia Doherty, owner of the brand-spanking new Farmhouse restaurant, for nearly six years now. He's been gushing about his dream restaurant, a locally sourced farm-to-table craft tavern for years now. As of September 2011, Farmhouse Chicago is alive and well in River North Chicago. And I'm happy that my name can be associated with this fantastic project. Farmhouse bills itself as a Midwestern Craft Tavern, and it certainly lives up to its name.

I built the Farmhouse website with the help of Chicago art director Dana Krzysztofiak. If you're in Chicago and are craving some local fare, I highly recommend Farmhouse. And so do most of the folks who've stopped by… Cheers!