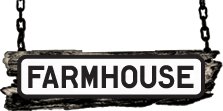 09 Apr

Farmhouse Gets a Whole Lotta Love

I can't begin to offer justice for the amount of coverage that Farmhouse has been receiving. Farmhouse Chicago has been open for about six months, but it's frequently found itself on websites and in publications not just in Chicago, but around the country…and the world. And deservedly so.

I've had an opportunity to eat at Farmhouse a handful of times, and every time I can say that at least several people at my table gasped "amazing" during at least one huge bite of food. The favorites seem to be the cheese curds for most, but I'm a huge fan of the Farmhouse Roasted Amish Chicken and the Farmhouse Portobello Burger. Perhaps the best though, is the Hair of the Bean drink. With a great mix of coffee, bourbon and various other magic with a bacon garnish, I can't begin to give this drink the credit it deserves. Every trip I make to Chicago I try to find myself visiting Farmhouse at least once.

I'd imagine that the fans and lines will continue to grow for Farmhouse. If you find yourself in River North, do yourself a favor and stop in for a drink, a snack and hopefully a chance to look around at the wonderful job they've done with the salvaged materials that make up the cozy atmosphere.